Claire Barnet gained her Scottish Official Highland Dancing Association teaching qualification in February 2012 and has run the Edinburgh Highland Dancers School since October 2013.

Claire has been Highland Dancing since the 1980's, and performed at the Edinburgh Military Tattoo as well as touring the world with the Scottish Highland Dance Company.


Highland Dancing is an energetic and enjoyable traditional discipline that can be done just for fun, or with a view to gaining exam qualifications and competition experience. Such dances include the Highland Fling and traditional Sword Dance.

The Edinburgh Highland Dance School was originally founded by Barbara McBryne in 2006.
Following Scottish government guidelines, lessons are restarting on Wed 26 April 2021.
The collection of lockdown Training Videos to practice the main skills are still available to access.
Highland Dancing lessons are open to all ages and abilities, for both boys and girls. Beginners are especially welcome.
Lessons take place every Wednesday evening at St Thomas of Aquins School, Chalmers Street, Edinburgh, EH3 9ES. [map]

5:30 - 6:15pm .... Pre-Primary, Primary and Beginners
6:00 - 6:45pm .... Advanced Beginners (ie all who have sat the Bronze exam)
6:15 - 7:00pm .... Novice (ie Silver Exam, and above)
6:30 - 7:15pm .... Advanced Novice
7:00 - 7:45pm .... Adults' class (once this is permitted)
Dancers are requested to be ready to dance, dressed in t-shirt & shorts (or similar) for the start time of each class.
Face masks must be worn in the school's public areas, but they do not need to be worn in the dance studio.
Hand sanitiser must be used when entering or leaving the dance studio.
The cost is £5.50 per lesson, or £20.00 for four weeks' lessons, payable in advance.
The dance school's teacher, Claire Barnet, can be contacted for more details by mobile 07590 293 833 or by email.
| | |
| --- | --- |
| The Highland Fling | The Sword Dance |
| The Hullachan Reel | The Flora |
| Barracks Johnnie | Seann Truibhas |
Here are all the dances that can be taught in lessons:
| | | |
| --- | --- | --- |
| Pas De Bas | Huntly Fling | The Flora |
| Pas De Bas with High Cuts | Linkumdodie | Scottish Lilt |
| Highland Fling | Highland Laddie | Blue Bonnets |
| Sword Dance | Barracks Johnnie | Village Maid |
| Seann Truibhas | Scotch Measure | Over the Water |
| Hullachan Reel | Broadswords | Broadswords |
| Strathspey and Half Tulloch | Irish Jig | Flowers of Edinburgh |
| Strathspey and Highland Reel | Sailor's Hornpipe | |
| Strathspey, Highland Reel and Half Tulloch | | |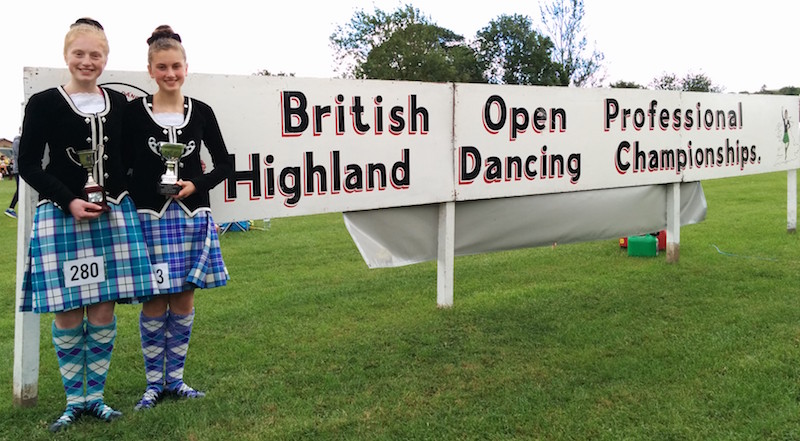 By excelling at many of the above dances, Edinburgh Highland Dance school members have won the following titles and trophies over the years:
East Lothian Babies Cup
British Championship Babies Champion
Scottish Championship Babies Champion
British Championship Beginners Champion
British Championship Novice Runner-Up
British Championship Intermediate Runner-Up
Airth Highland Games Novice Runner-Up
Airth Highland Games Overall Intermediate Section Winner
North Berwick Highland Games Adult Champion
Highland Dancing Organisations

Scottish Official Highland Dancing Association (SOHDA)

SOHDA Competitions and Entry Forms
Competition and Exam Venues

[map] Airth Highland Games, North Greens Park, The Wilderness, Airth, Falkirk

[map] North Berwick Highland Games, North Berwick.

[map] Broughton High School, 29 E Fettes Ave, Edinburgh EH4 1EG


Dancewear and Accessories

Dancewear of Edinburgh

Henderson Highland Hose Manufacturers. 9 Lovaine Terrace, Berwick-upon-Tweed, TD15 1LA. Tel/fax: 01289 302831

Highland Dance Shop

Highland World


Miscellaneous

Grand Chain - the Scottish Dance Resource. A resource for Scottish dancers worldwide, including bands, groups, links, hints and tips, dances and more for SCD, Highland and Ceilidh dancers.